We're a Denver, Colorado based graphic design and branding firm that focuses on creating all the creative visuals that appeal to your target audience. From Logo Design to retail box design, printed marketing materials and more.
---
Getting Packaging Design Right is A Must For Your Product's Success
All the unknowns of product packaging can feel overwhelming: Do I need to ship the box? What's the cost of materials? Do I need inserts? Instead of starting with the stressful questions start with a little inspiration of what the possibilities are.
Package design is a great way to show off your brand and creativity by adding some design elements but it's also a great way to both attract and keep customers. No matter what your product is or where you are selling package design can be a huge asset to your business. Package design has the potential to build brand loyalty, brand recognition, creating "buzz" on social media, communicating company values and more. This may sound like a tall order for package design, but truly good design can accomplish all these things. This is why it's important to do your research when planning your package design. You can start here!
Below are a few ideas to get you excited about your package design and to consider the benefits of creative branded package design. There are many examples of existing package design and product packaging from established brands and some specific tips to help you design packaging that is perfect for your product and brand. The sky's the limit for your packaging design so take some notes get inspired!
Custom Designed & Printed Shipping Boxes
The face of specialty products is no longer the store front; it's the shipping box. Numerous companies that once relied on the retail experience to sell products are chaging gears in order to survive. One way to respond to the new era of shopping is subscription boxes. Subscription services have long recognized that the box needs to be an experience in itself. They need consumers to look forward to the delivery of their new box in order to keep them subscribing. Take a look at these subscription boxes that use design to keep their customers buying their products.
Established Brand Examples:
BirchBox
BirchBox is a subscription box for sampling makeup products. Each month their shipping box sports a new design to reflect what's inside. Customers can look forward to the new and new design which makes their "shopping" experience so pleasant.These branded box designs have become so popular that collections of them are being sold on ebay and youtube channels are dedicating videos just to DIY projects with birch boxes.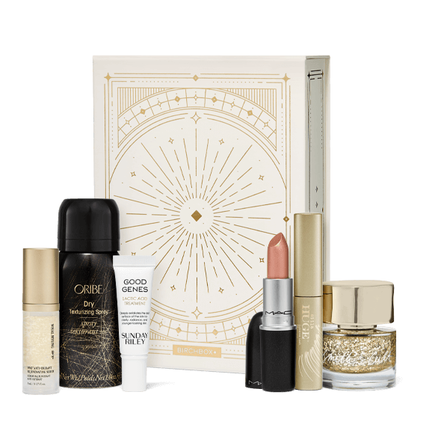 StitchFix
Another successful example is StitchFix, a subscription box for new clothes. Their box design is consistent (which would save time and money by ordering bulk of the same shipping box) but is unique enough to create their own branded experience. The shipping box has branded tape and a large seal printed on it, the inside has a branded pattern print and tissue paper wrapping the clothes. These simple touches make their products shine and keep their subscribers ordering from them.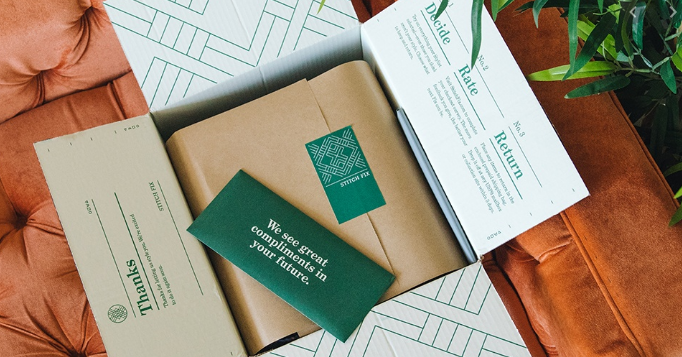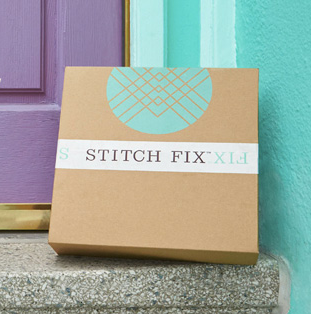 Custom Branded Shipping Boxes
If shipping is a part of your business you'll have to order shipping packages in bulk anyways so why not take the opportunity to make a truly unique package design. The box will be your customers first impression of your business. Impressing them with attractive design will improve their perception of the business and product.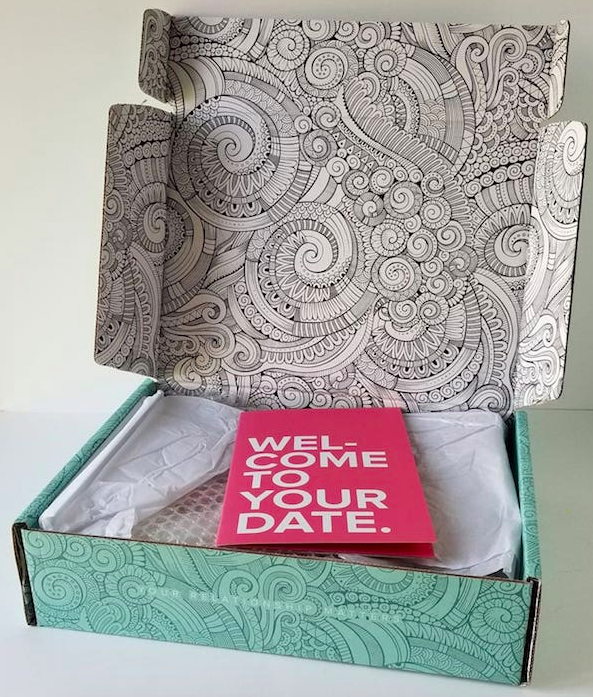 Intricate Place Cards
Place cards are a simple touch but when designed with style can add sophistication to your package design. It's an inexpensive way to speak directly to your customer. You could write about the product they just purchased, the best way to use it. Or write about your company and values. Just make sure the content is meaningful or useful to the customer, otherwise, it's just another piece of garbage for them to throw away.
Custom Printed Packaging Tape
Packaging tape is such a simple and cheap solution to your branded package design! Let's say you don't want to bulk order boxes or custom package design for all your products, using branded packaging tape is a great alternative! You can order standard plain boxes at a cheaper price and use your branded packaging tape to personalize it. Branded tape is a small touch that will make your package stand out among all the other packages getting delivered to your customer.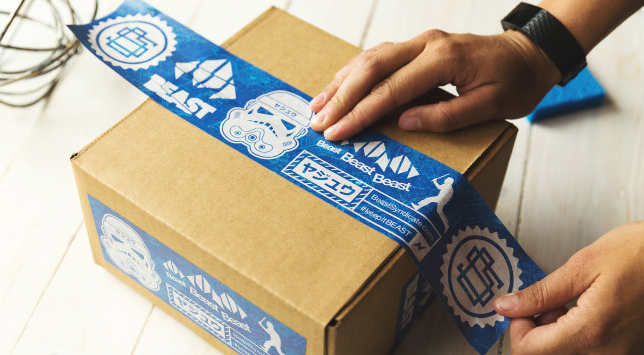 As far as design goes you could keep it simple and put your logo on the tape or you could make some clever designs like the ones below. You could even create seasonal tape to save custom holiday package designs every year.
Custom Product Label Design & Printing
Custom printing shipping labels should be a part of your packaging plan if your business requires shipping. Simply writing on the package looks unprofessional and its time consuming. If you're preparing for shipping large orders everyday, simplify the task by prepringting your shipping labels. It's another cheap branding tool that both saves you time and gives you a chance to add a bit of style to your package design.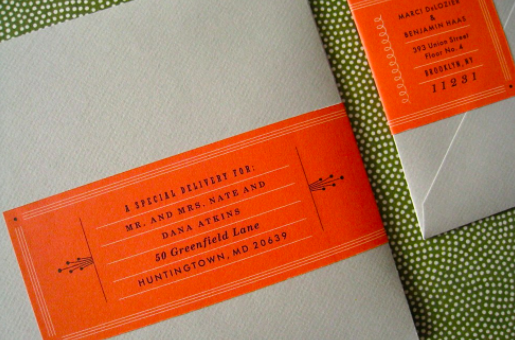 Tissue paper
Tissue paper is cheap to purchase in large quantities and its huge canvas to show off design, creativity, and your brand. Do not limit yourself in the design of the tissue paper, its the perfect cost effective way to make your package design truly unique. Here's a few ideas:
Make your package look like something else like the fruit tissue paper design below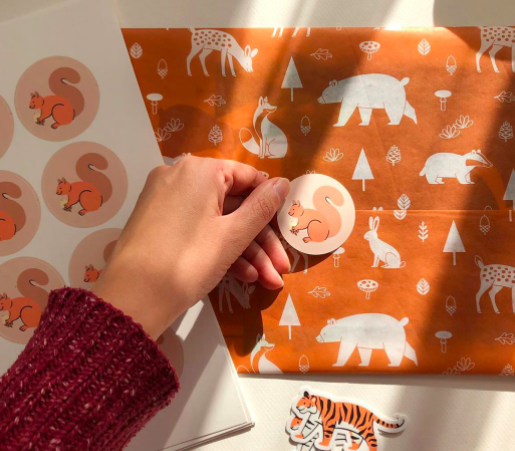 If it's a kids product make the entire sheet a pirate map or a coloring book!
If you want your product to feel unique and special, hire an artist and print their work on the wrapping paper. Hiring artists to create work for packaging is a common solution for many established brands who want to emphasize the uniqueness of their product.
Retail Package Design & Box Printing
Established Brand Examples:
Take a look at some of these established brands and how they've used packaging to entice new customers and show off their brand.
And Sons Chocolate
And Sons Chocolate is an established chocolate brand operating in Los Angeles. Their Package Design is a white, high quality chocolate box with colorful art decorating the outside, fitting for their uniquely colored confections.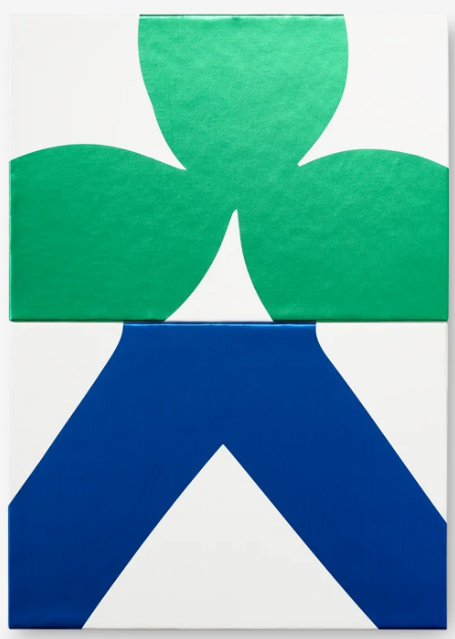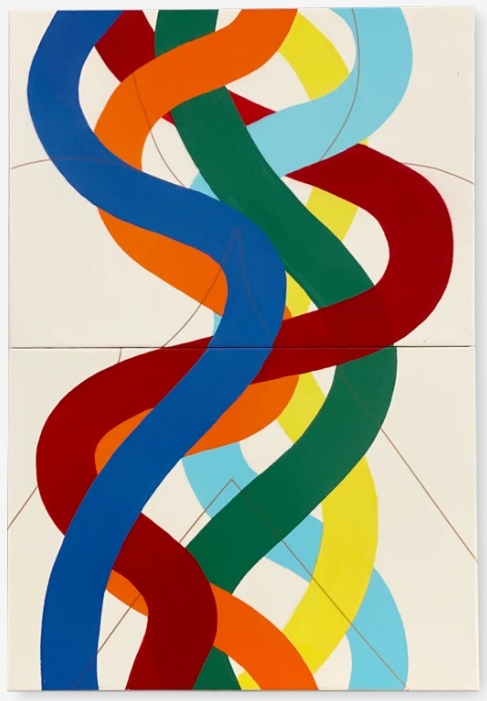 The thoughtfulness that went into this packaging was important because it needed to convey to the customer that what they were purchasing was art in its own right.
This design is also consistent throughout all of their product packaging, this way the "look" will become associated with their brand. This is useful because the unique design creates an exciting unboxing experience that the customer wants to experience again. If the chocolates were packaged in a generic box that looked like any other chocolate company brand than the experience would be highly forgettable.
Myro
Consider combining your product packaging and product design to make a superior product like Myro. This business created a refillable deodorant canister that comes with a refill schedule so you never run out. The design is meant to reduce packaging and plastic waste and deliver a healthier product than most chemical deodorants. Instead of following the norm this company created packaging thats meant to last longer than the product!
They also incorporated elegant design and colors, ensuring that the packaging doesn't fall out of style quickly.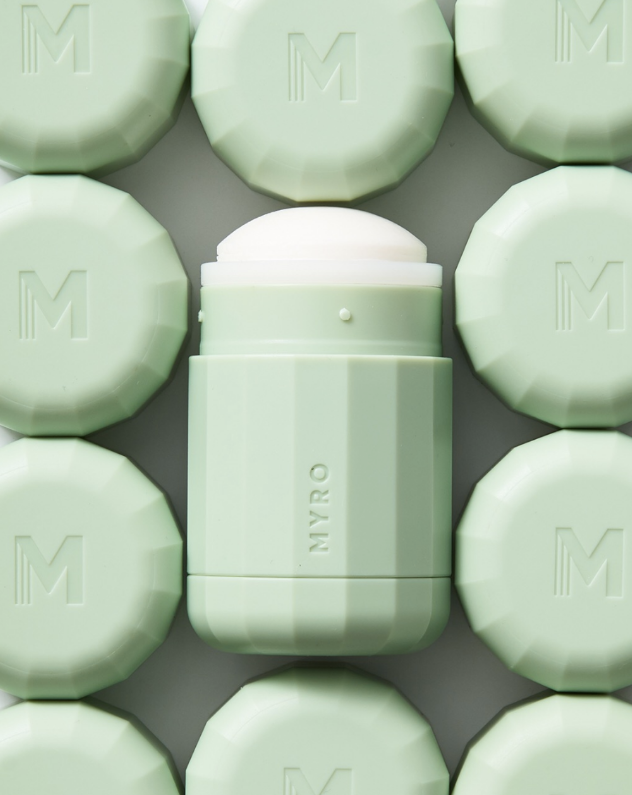 Product Packaging Sleeve Design
Sleeves are the unsung hero of package design; they are cheap and they are so versatile!Using a sleeve on your box design is not only an added layer of design but it also seals it shut. If you're worried about the security of the product inside the box a sleeve is a great option.
Sleeves are also useful if your product is an odd shape and may not fit is a box easily. Wrapping a sleeve around it is a great way to put all the necessary packaging information on the product without spending money on custom packaging.
Pouch Packaging Design
If you're looking into product packaging consider pouches, especially if you sell food products or products that can't be exposed to moisture. The same products that are put into plastic bottles can usually be stored in pouches instead. Using pouches as an alternative will usually save you money, they are less expensive to manufacture and they are very light which can save you money on shipping. Here are a few good options when it comes to pouch packaging:
Established Brand Examples
Huel
Huel is a nutritional food replacement powder. Because it's meant to be sold in bulk and stored in customers homes the stand up pouches are perfect. The powders can't be exposed to moisture or sunlight so the tightly sealed pouches work well. The pouches are also child proof as an extra precaution. The Huel product could easily have been stored in a large plastic jar like other nutritional powders however this would have been more expensive packaging and heavier to ship. The stand up pouches fit easily into shipping boxes, are lightweight and store the product just as well.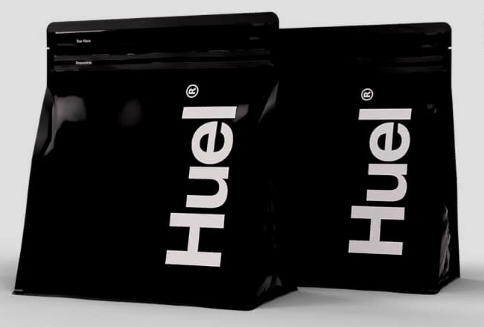 Stand Up Pouch Design & Printing
These pouches are used often for food products but will also work well for other items you'd need to keep air tight such as bath salts. Stand up pouches are best if you're planning on displaying your products in a store or if you're selling an item that your customers will need to store long term such as bulk protein powders or dog food. When designing stand up pouches get creative because there is plenty of area to cover. Also check with your vendor to see what material they offer, kraft paper is sometimes an option and may fit your brand better than plastic.
Flat Pouches
Flat Pouches are another great option for your products. One of the benefits of this pack is that the shape is thin and flat making shipping economical. This type of packaging is better for selling and shipping from an online store as it doesn't stand on its own. It's also a great way to send small portions of a product for sampling or if customers would only want to purchase small quantities of an expensive item such as beauty products. You could also consider this packaging if your product needs to be separated into "doses" such as nutritional powders and supplements.
Child Resistant Pouches
If your product has chemicals or ingredients not safe for a child then consider child resistant packaging. The safety of your customers should be your highest priority and this kind of packaging will keep your adult only product away from children. This kind of packaging is especially useful for products that include cannabis, as it's airtight and child-proof.
Custom Label Design & Printing Options
Label design is one of the most important considerations when it comes to packaging design. Almost every product needs it and it says a lot about your business. Minimalist designs with non-adhesive labels can show that your business is eco friendly. Maximalist design with raised features and gold foil can show that this is a luxury product to savour. Labels are also important to consider if you can only invest in one packaging element. They are less expensive to produce than most boxes and if you put time into your design it will make your product shine. These established brands have taken advantage of label design to make truly beautiful packaging.
Established Brand Examples
Bacardi
Already known for their high end spirits bacardi needed new design for the release of their new premium line that still fitted their brand look. The new labels take some of the colors and elements from the existing labels and embellish it to the max. Gold foil details and etching style illustrations give the labels a throwback look to their 156 year heritage. The old world aesthetic extends through their line of products giving the brand an elevated and sophisticated look. Using high end label design Bacardi elevated there entire brand.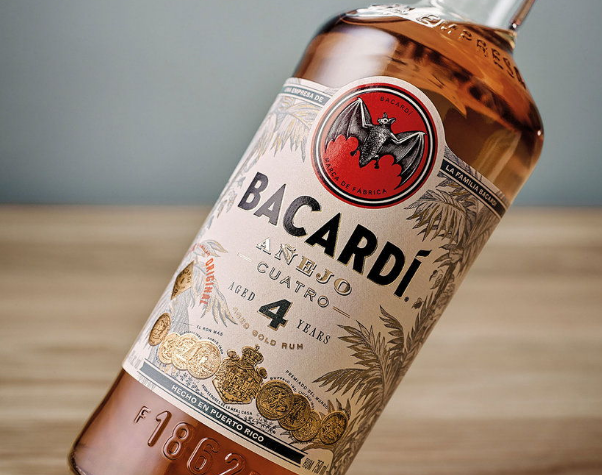 Life Wtr
Life water is known for showcasing creative designs on their label that feature up and coming artists. The featured designs often reflect an important theme such as recycling. The creative use of their branded labels makes their product stand out from the many bottled water products that stock the shelves. At the very least the labels make consumers give the bottle a second glance so even if they arent buying the product they are committing the brand to memory by taking a look at the unique designs everytime they buy a water bottle. This increases their brand recognition and awareness.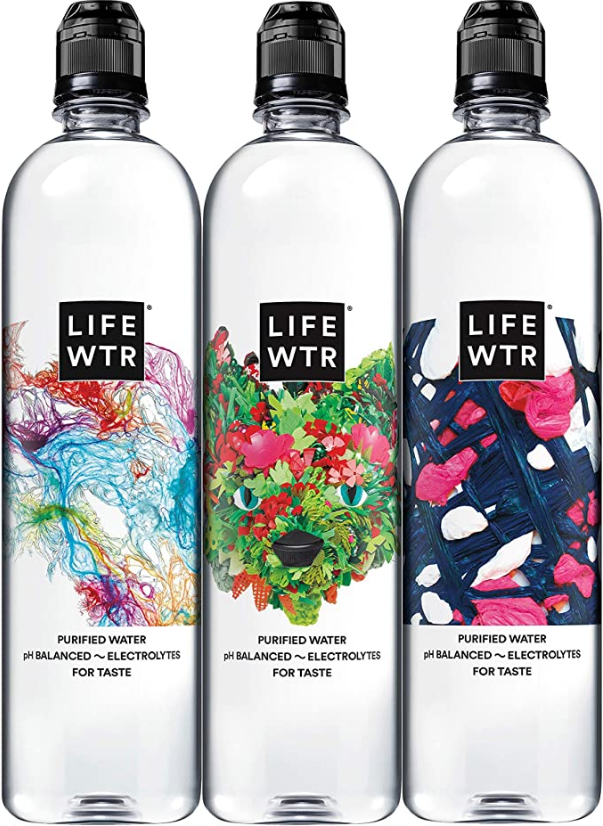 Here's Some Label Design Ideas
Water-Resistant Labels
When choosing your labels it's important to consider how long it needs to last and what the label will be exposed to. If your product is liquid based or is likely to be exposed to liquid then consider what durable and water resistant options you have.
Durability will also make your product look good in the long run. If your customer is storing your product long term you want you labels to look good that long. If the label gets mottled or damaged easily it will make your product look cheaper.
Label Seals
If you're using containers or boxes to store your product consider using labels to seal your product. Using labels as seals are useful for the security of your product but also to ensure to your customer that no one has opened the package since it came from the business it was purchased from.